Virginia bill seeking to award state's electoral votes to winner of popular vote in presidential elections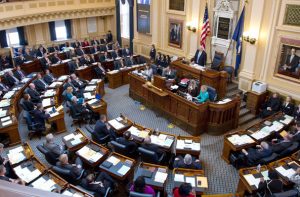 A bill introduced in the Virginia General Assembly seeks to award the Commonwealth's electoral votes based on the winner of the popular vote in a Presidential election.
SB399, introduced by Adam Ebbin, would see the state enter into a compact called the Agreement Among the States to Elect the President by National Popular Vote, protected by Article II of the Constitution that grants states exclusive right to decide how they want to award their electoral votes.
This compact would go into effect once states cumulatively possessing a majority of the electoral votes have joined the compact. A state can withdraw from the compact, but if it occurred within six months of the ending of a term, it would not take effect until after a president or vice president has qualified for another term.