Police estimate 22K attend gun rally in Richmond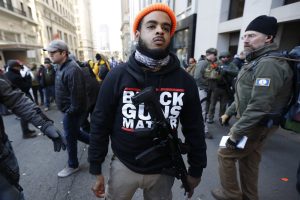 Governor Ralph Northam says he's thankful a Lobby Day gun rally in Capital Square came and went without incident. Capital Police estimate 22,000 people swarmed the Richmond streets and the steps of the state hall including Tazewell County Sheriff Brian Hieatt who previously noted he would assembly a militia to make sure gun ownership under the Constitution was protected.
"Citizens of Virginia do not agree with a lot of the things going on here today, so we hope they take notice of the crowds and what they represent," the sheriff said during a live broadcast on this social media page.
Law enforcement reported only one arrest for the event—a 21-year-old Richmond resident was cited for wearing a mask after officers instructed her three times to remove a bandanna from her face.
(PHOTO: A man walks in the crowd during a pro-gun rally, Monday, Jan. 20, 2020, in Richmond, Va. Thousands of pro-gun supporters are expected at the rally to oppose gun control legislation like universal background checks that are being pushed by the newly elected Democratic legislature. (AP Photo/Julio Cortez)