Accused Glade Spring laundromat burglary suspect captured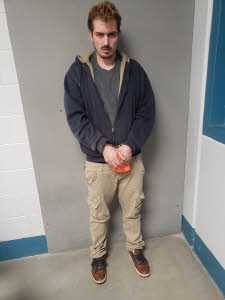 A Glade Spring, Virginia man is dealing with burglary charges after being arrested for his alleged connection to a break-in at a laundromat.
According to a Washington County, Virginia Sheriff's Office report, deputies were called to Lost Sock Coin Laundry in Glade Spring Tuesday night around 9:40 p.m, where they were told by the owner that an individual had cut a hole through drywall in the bathroom, busted through a block-wall, as well as wood paneling, while leaving supplies and a jacket with items behind at the scene. Some of the items included a cell phone without a battery, a Phillips head screw driver, and a half-inch drill bit.
Surveillance footage captured Shawn Ward walking into the business and into the bathroom, where he then cut a hole through the bathroom, and triggered the alarm trying to reportedly gain access to the business's safe, before fleeing.
Officers later located Ward, and after he consented to a search of his backpack, officers found items like a battery that matched the recovered cell phone and tools that would've been used to cut a hole in the drywall and break through a block wall. He was then taken into custody and charged with Burglary and Possession of Burglarious Tools. He was transported to the Southwest Virginia Regional Jail.
Courtesy of Image: Washington County, VA Sheriff's Office