Report: Tennessee unemployment rate remains steady in December 2019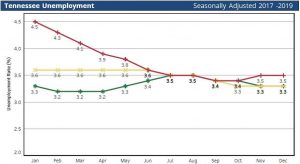 Tennessee continues to receive great job news following the state's release of unemployment figures for the last month of 2019.
Data from the Tennessee Department of Labor and Workforce Development reports the state's seasonally adjusted unemployment rate sits at 3.3%, 0.1% short of tying the all-time low rate, set back in February of last year. The department also says 2,000 non-farm hires were made during the month, and the job sectors of leisure/hospitality, professional/business services, and trade/transportation/utilities made the most gains.
We'll have a localized report of unemployment rates when those figures are released next week.
More information is available here.
Courtesy of Image: tn.gov