Chief: Casino project in Cherokee improved social indicators in impoverished area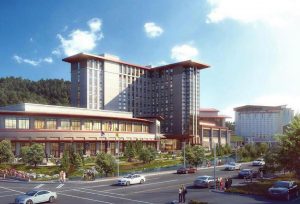 Officials representing a proposal at The Pinnacle made a pitch to lawmakers in Washington County, Virginia.
"We think this project stands up against every single project in the state because this isn't a casino project. This is a massive, generational economic development," said project attorney Greg Habbeb.
Attorney Greg Habeeb and Chief of the Eastern Band of Cherokee Indians Richard Sneed explained the benefits the county would receive if casinos are approved in the Commonwealth. Sneed spoke on concerns about what could happen if a gambling house locates in an impoverished area. With 24 years in the gaming business, he said his Cherokee development improved the area's social status.
"What we saw over the course of 20 years was all of the indicators for behavioral health, mental health, and physical health, all are doing this, they're trending upward," said Sneed.
Land developer Steve Johnson and the Cherokee are proposing to construct a casino, golf course, water park, retail spots, and a 15,000-seat amphitheater on more than 300 acres on his property adjacent to the current Pinnacle retail area.
Bristol was outlined in a JLARC study last year as a locality that would benefit from a casino project. The city is also one of the only areas where you have two proposed gambling centers vying for the same customer base.
Investors Jim McGlothlin and Clyde Stacy are equity partners with a casino project that could be built at the former Bristol Mall location.