National Guard comes to Tazewell County to assist in flood aftermath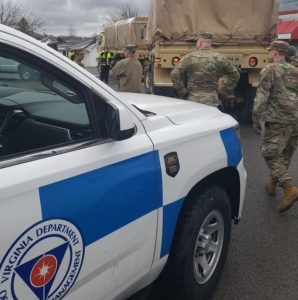 Members of the Virginia National Guard arrived in Richlands to assist hundreds of residents forced from their homes by torrential rains.
The Department of Emergency Management said they are working with Tazewell County officials to help those impacted by the flooding that resulted in several home rescues and more than 500 residents being placed in shelters or temporary housing. State Police reported over 280 roadways in Southwest Virginia were closed off because of high waters, landslides or debris from the storm.
Preliminary data from the National Weather Service in Morristown says official rain gauges at the Tri-Cities Airport in Blountville collected a record amount of precipitation resulting in a daily rainfall record of 2.26 inches. Other NWS reports recorded levels above 28 feet along the Clinch River while the Powell River was measured at 27 feet late Thursday.
(PHOTO: VDEM)