Charges pending in Sunday crash in Sullivan County that leaves three injured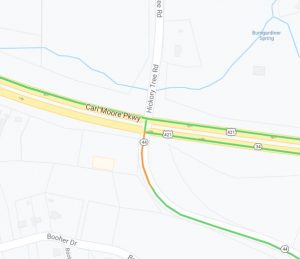 A Bristol, Tennessee woman is charged following a two car crash that leaves three injured Sunday night in Sullivan County.
A Tennessee Highway Patrol crash report says Brandy Wise, 18, and two passengers were on Hickory Tree Road and attempted to pull into the median to get on Highway 421, but pulled out in front of a 2010 Ford F-150 driven by James Dishman, 46, causing a collision. Dishman received injuries, as well as Wise and one her of two passengers.
The conditions of all injured are unknown at this time and Wise is charged with due care.
Courtesy of Image: TDOT