NWS: Tri-Cities/Southwest Virginia expected to be hit hard again by forecasted rain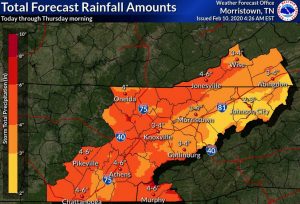 Heavy rains expected to return to our region beginning Monday could once again threaten to produce widespread flooding this week.
The National Weather Service in Morristown is forecasting the possibility of 1.5-2 inches of rain for the Tri-Cities area from today into Tuesday. Heavy rains are also expected to return Wednesday through Thursday, and once the rain systems have moved out, final totals could reach up to as much as 6 inches in parts of Southwest Virginia close to Kentucky, while other places such as Johnson City and Abingdon might see 3-4 inches.
A link to this week's forecast is available here.
Courtesy of Image: National Weather Service