UPDATE: Murder suspect in Greeneville, Florida facing additional charges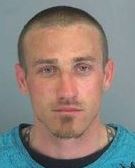 The suspect in the slaying of a Greene County man last year is facing additional charges related to murders in Florida.
Stanley Eric Mossburg was cited for 10 identity theft violations including stealing credit cards, using another person's ID and fraud, according to Polk County court records. Prosecutors said Mossburg, 35, used the personal and financial information of the victims he killed at a home in Winter Haven in October.
He is also facing a charge of first-degree murder in the stabbing death of Christopher Scott Short at a Greeneville laundromat earlier that month.
Florida prosecutors said in November that they will seek the death penalty in the case.
Mossburg will be arraigned on the new charges in Florida on March 10.