Investigation to begin into Bristol, TN Director of Schools credentials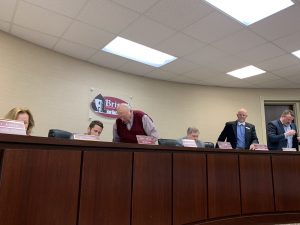 Questions have been raised about the doctoral degree of Bristol Tennessee Director of Schools Tom Sisk.
That became a matter of discussion during a large turnout at Monday night's school board meeting. Parents, teachers, and community leaders were present, including Sullivan County Commissioner Mark Hutton, who raised concerns about the legitimacy of Sisk's doctorate, a reported numismatic degree according to his LinkedIn bio, as well as the Director's use of the title of doctor.
Hutton had some strong words for board members regarding these concerns.
"From my perspective it seems like there was some hope that this issue would just go away, I was told that some of you were planning to stick behind the director, and that you were just going to wait and see if this whole thing would just go away. But I can promise you, it's not going to go away," Hutton said.
Towards the end of the meeting, Sisk addressed the crowd and spoke on how he feels prior experience, and results, plus leadership since his arrival in Bristol is how he should be measured.
"I'm not trying to purposely mislead," said Sisk.
Board Chairman Nelson Pyle says an investigation will be conducted over the next few weeks The board will reconvene once it has investigation results and recommendations to address Sisk's future with the school system.
Courtesy of Image: Supertalk