Glade Spring fire officials investigating cause of Tuesday night vacant tractor-trailer fire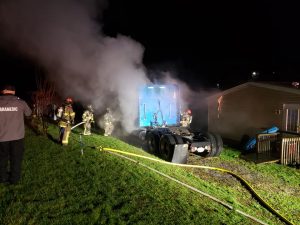 Fire officials in Glade Spring, VA are investigating after finding a vacant tractor trailer on fire Tuesday night.
According to the Glade Spring Fire Department, they were called to a fully engulfed tractor trailer around 9:00 p.m, but located no one inside. They also said the trailer was sitting under power lines and close to a house, which reportedly suffered minor heat damage. The tractor trailer also was reportedly not used since December of last year.
The fire was quickly extinguished and no injuries were reported.
Courtesy of Image: Glade Spring Fire Department Station 13