Tennessee, other states file motion in federal court to block ERA amendment adoption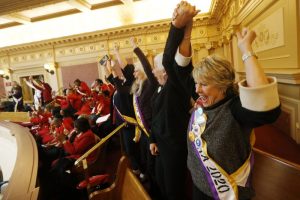 Five states including Tennessee filed paperwork in US District Court in Washington, DC to halt the rewriting of the Constitution to include the Equal Rights Amendment.
Attorney General Herb Slatery said the deadline for ratifying the amendment ceased in 1979 and quoted Supreme Court Justice Ruth Bader Ginsburg who said the addition cannot be added unless the entire process to ratify is started all over again.
Virginia lawmakers recently passed bills to become the 38th state to file for amending the Constitution to give women the same rights as men.
Slatery also noted Tennessee will continue to fight to protect the progress women have made and defend the rule of law.
(PHOTO: Associated Press)