SCSO: Search party groups on Facebook for Evelyn Boswell not needed at this point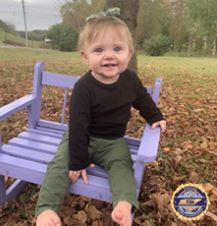 The Sullivan County Sheriff's Office and the TBI discouraged people on Monday to cancel search party group formations on Facebook as they continue their pursuit for the location of 1-year-old Evelyn Mae Boswell.
Here is the complete statement issued by SCSO spokesperson Capt. Andy Seabolt:
We have become aware that there are Facebook groups that are organizing search parties in relation to the Evelyn Boswell case.
At this time, we are not asking for volunteers to help organize search parties. In the event that we reach a point that we need volunteers for search parties, we will make that known.
"Agents and detectives continue to follow up on relevant leads. However, there are no active searches as we do not have definitive information regarding Evelyn's whereabouts," said TBI spokesperson Josh DeVine who added all of the agencies involved realize there are many questions about the timing, the family's involvement, and the overall anxiety about the missing child.
"We aren't in a position to talk about everything we know about this case publicly. Right now, our primary focus is on finding Evelyn," said DeVine.
They do encourage everyone to continue to share Evelyn's photos on social media and submitting tips at -1-800-TBI-FIND.