Bristol, TN BOE parts ways with Director of Schools, Interim Director appointed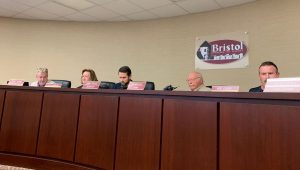 The Bristol, TN Board of Education has voted to part ways with Director of Schools Tom Sisk as part of a severance agreement.
This decision was unanimously passed by board members at a special called meeting Tuesday following an investigation launched last week, prompted by calls to review the legitimacy of Sisk's doctorate, a reported numismatic degree from Ashwood University out of Pakistan. Chris McCarty, Bristol, TN City Schools Attorney, was directed by the board to investigate these concerns, and told Supertalk he was approached by Sisk's counsel early last week to begin negotiating a possible buyout. That ultimately led to Sisk signing the severance agreement on February 19th that the board voted to approve, also gaining the signature of Board Chairman Nelson Pyle to make things official.
McCarty said by going through with the severance agreement, it saved the board from potential litigation, a long and costly process that could've taken 2-3 years to resolve and may have resulted in hundreds of thousands of dollars in loss to the school district should they have lost. Through this severance agreement, Sisk will receive $76,327 in gross pay as part of a relief of duties. Dr. Annette Tudor was appointed to take over as Interim Director of Schools and is eager to jump into the role.
"I think we obviously have the support of the community, we have lots of supportive teachers, staff, and students who are ready to do the work, and that's what its going to take. So I think we'll come together as a community and we will be stronger for this then anything we were before, and I think that will show in the end," said Tudor.
Tudor previously served as Interim Director of Schools last year after former Director of Schools Dr. Gary Lilly accepted a Director of Schools position in Collierville, TN.
Sisk was not at the meeting Tuesday.
Photo Courtesy: T.Adams/Supertalk 92.9