UPDATE: No evidence of baby Evelyn in North Carolina pond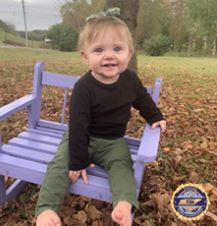 Information from the Wilkes County, North Carolina Sheriff's Office said a search of a pond on property in the Traphill community was inconclusive following a tip on the possible location of missing 1-year-old Evelyn Boswell of Sullivan County.
Wilkes County was where Evelyn's grandmother Angela Boswell and boyfriend William McCloud were arrested on theft charges after police said they stole a 2007 BMW.
Sheriff Jeff Cassidy said the investigation has been made more difficult with theories published on social media and by the baby's mother Megan Boswell now charged with false reporting, who Cassidy said had change the story about Evelyn "every single time" she has been questioned.
Cassidy noted that his department is deploying every bit of manpower it can spare in this search for baby Evelyn and he still thinks that the toddler is alive.