HCSO: Man accused of biting deputy during incident at Price Less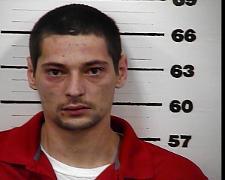 A Kingsport man is dealing with several charges out of Hawkins County after police say he allegedly ran from them and bit a deputy.
The Hawkins County Sheriff's Office were called to a domestic incident in the parking lot of Weigel's Wednesday night and found suspect Johnathan Ketron beating on the passenger window and tugging on a door of a vehicle before walking towards Price Less. Officers talked to the victim in the car who had locked herself in the vehicle to get away from Ketron. A deputy followed Ketron into the Price Less store to speak with him, who then reportedly ran from the deputy.
The deputy pursued and tackled Ketron, and while trying to place him into custody, a report said Ketron bit the deputy on the right and left wrists. Ketron was then placed in custody and charged with numerous counts including domestic assault, evading arrest, and assault on an officer.
Photo Courtesy: Hawkins County Jail