NEW: Missing toddler's mom denied bond reduction, has charge bound over to grand jury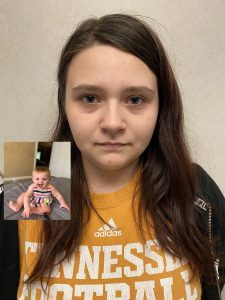 The mother of missing toddler Evelyn Boswell had her charge of making false statements to law enforcement related to the search for the baby bound over to a grand jury.
Megan Boswell, 19, appeared in Bristol Sessions Court and was denied a reduction in her $25,000 bond by Judge Klyne Lauderback. Her attorney also waived Megan's right to a preliminary hearing. She will make her next appearance in Criminal Court on May 8.
Sullivan County Sheriff Jeff Cassidy said Boswell made several inconsistent statements to investigators after her 1-year-old daughter was reported missing last month and an AMBER Alert was activated.
A reward leading to baby Evelyn's return has grown to $61,000 but the TBI still reports that there have been no credible sightings following more than 800 leads being submitted by the public.
Law enforcement says the child's last reported sighting was in mid-December by a babysitter.
Anyone with information on her whereabouts can call 1-800-TBI-FIND.