NWS: Nashville tornado traveled for over 50 miles, Putnam County tornado rated EF4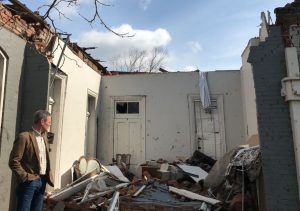 The National Weather Service now reports the EF3 tornado that blew through the Nashville area during the early hours of Tuesday morning traveled for more than 50 miles.
Updated information from the Nashville offices says the tornado reached peak winds of around 165 mph and was on the ground for nearly an hour, traveling through areas of Davidson, Smith, and Wilson counties, killing five and injuring over 150 people.
The NWS also says a second tornado that touched down in Putnam County was rated at an EF4, killing 18 people. More information about the Putnam County tornado is expected to be released.
Photo Courtesy: Office of Governor Bill Lee/Facebook