BREAKING: TBI reports remains found believed to be 15-month old Evelyn Boswell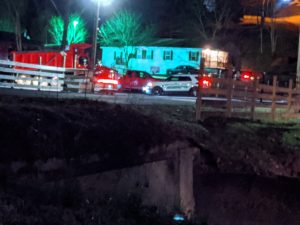 "This is certainly not the update we had hoped to provide this evening."
TBI spokesperson Leslie Earhart speaking at the beginning of last night's press conference as the somber news was announced that investigators had discovered human remains on a property off Muddy Creek Road in Blountville believed to have been of missing 15-month old Evelyn Boswell, last seen in early December. Sullivan County Sheriff Jeff Cassidy thanked the community for their continued prayers, and the work of his department, the TBI, and FBI. Cassidy followed up with what will occur next.
"The remains will be sent for an autopsy and a positive identification. At this time, the investigation is in the early stages and there a lot of work yet to be done," said Cassidy.
Sullivan County District Attorney Barry Staubus echoed what Sheriff Cassidy said as his office will now work to determine how to proceed forward in the case.
"We will evaluate our case and what we are going to do next after we conclude our investigation. Based on what has happened tonight, there is a lot of work to be done forensically, and just old fashioned investigative work," said Staubus.
PREVIOUS STORY:
An announcement was published just after 10 p.m. Friday evening from the Tennessee Bureau of Investigation that remains believed to be those of missing 1-year-old Evelyn Boswell have been found.
Published reports say the body was found on the property of a family member's home located off Muddy Creek Road in Blountville.
Baby Evelyn was the subject of an AMBER Alert issued last month after she was reported missing. Sheriff Jeff Cassidy said the baby was last seen in December and that the child's mother Megan Boswell had changed her story several times about the disappearance.
The Sullivan County Sheriff's Office has called a news conference for this evening and we will provide more details as they become available.
Photo Courtesy: K.Castle/Supertalk 92.9