KPD: Man wanted for allegedly biting cats and stealing guns now facing attempted murder charges of police officer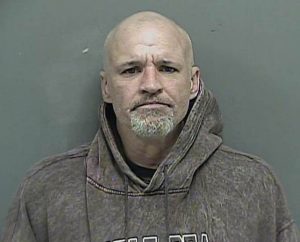 A Kingsport man wanted for charges related to allegedly biting his ex-girlfriend's two cats and stealing guns from a safe in her home late last year is now facing attempted first degree murder charges after authorities say he tried to run a police officer over.
According to the Kingsport Police Department, Troy Hollins, 45, was spotted Tuesday afternoon by authorities on Dorthy Street. Hollins was wanted on warrants for two counts of aggravated animal cruelty and theft of property over $1,000, and a report said when asked to stop, he refused to comply with officer orders, got into a silver Pontiac Grand Prix and drove away. An officer chased the vehicle down by foot by running through several yards, and was able to get ahead of the vehicle, but then authorities say Hollins veered towards the officer on Robertson Street.
The officer was able to get out of the way, while Hollins struck a van and utility pole before continuing onto Gibson Mill Road and West Stone Drive. Hollins was spotted again on West Stone Drive, and again reportedly refused to stop, traveling through three red lights and reaching speeds of over 100 mph. Shortly after, police say Hollins crashed into a tree on Unversity Boulevard.
Police broke a window out of the car to take the man into custody. Further investigation found Hollins to have his license suspended, while allegedly being in possession of a burnt marijuana cigarette and glass pipe associated with ingestion of illegal narcotics. Below is the list of charges Hollins faces from Tuesday's incident:
1) Resisting a Stop, Frisk, or Halt
2) Attempted First Degree Murder of a Police Officer
3) Leaving the Scene of a Motor Vehicle Collision
4) Failure to Obey Traffic Signal (3 counts)
5) Reckless Driving
6) Felony Reckless Endangerment
7) Resisting Arrest
8) Simple Possession of Marijuana
9) Unlawful Possession of Drug Paraphernalia
10) Driving on Suspended License
Photo Courtesy: Kingsport Police Department