Two Tazewell suspects wanted on charges including robbery and kidnapping captured in Washington County, VA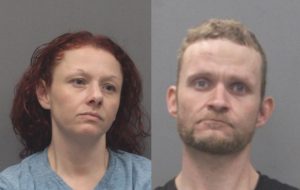 Two suspects wanted out of Tazwell County, VA are in jail following a late night standoff in Washington County, VA.
According to Sheriff Blake Andis, they were conducting surveillance on a home near Route 19 with suspects Bryan Johnson and Amanda Hagy inside. Andis said once three people including two juvenile girls left, they sent a SWAT team inside to arrest both. They also used tear gas on the house and Andis also indicated the residence caught fire but was quickly extinguished. Johnson and Hagy did not own the home, but were being harbored by the home owner according to Andis.
They also were able to locate materials inside including a shotgun and drug paraphernalia. Route 19 was closed for a brief period before being reopened overnight. Johnson and Hagy were wanted on charges including robbery, assault, and kidnapping. Both are being held in the Southwest Virginia Regional Jail.
Photo Courtesy: Southwest Virginia Regional Jail Authority