UPDATE: Virginia's possible coronavirus plans could include work-at-home options for state workers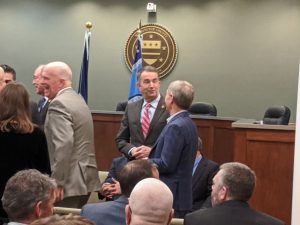 Declaring a state of emergency is an option but one that Governor Ralph Northam says Virginia is not ready to take for the coronavirus.
"We are planning for every scenario in ensuring that our government agencies, our schools, our hospitals, and our Commonwealth are prepared thoroughly and able to respond quickly." )
At a press conference in Richmond, Northam says he has asked agencies to prepare to provide options for more than 100,000 state workers for possible at-home workdays through telecommuting while asking the public and private employers to consider expanding paid sick leave and form emergency operation plans.
COVID-19 cases in Virginia have been isolated to northern counties and cities with 9 people being treated and currently listed in stable condition.
Questions about the coronavirus? Call 1-877-ASKVDH-3.
(PHOTO: SuperTalk 929) (AUDIO: Commonwealth of Virginia / Office of the Governor)