Two Dandridge men facing several sex crime charges following investigation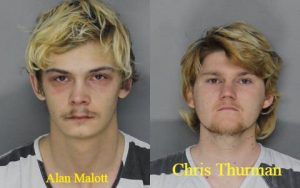 Two Dandridge, TN men are facing several charges including rape of a child.
The Jefferson County Sheriff's Office along with an FBI and Fourth Judicial Dangerous Drug Task Force investigation arrested Alan Malott, 25, and Chris Thurman, 23. Each are charged with rape of a child and sexual exploitation of a minor, while Malott faces an additional charge of criminal offenses against animals, photographs or films for purposes of sexual gratification a person engaged in a sexual activity with an animal.
Both are being held on a $600,000 bond.
Photo Courtesy: Jefferson County, TN Sheriff Office