North Carolina man charged in Hawkins County with child endangerment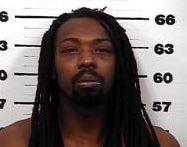 A North Carolina man was charged after Hawkins County police said he picked up his toddler daughter when a deputy pointed a phaser to subdue him.
Michael McDuffie, 32, was arrested at a Church Hill residence after police arrived on a disturbance call. A report from the sheriff's office said McDuffie was intoxicated and acting violently inside the home.
McDuffie was eventually arrested and cited for child endangerment, disorderly conduct, domestic assault, and retaliation.
(PHOTO: HCSO TN)