Ballad CEO: Bed capacity at good levels, will soon be able to do in-house COVID-19 testing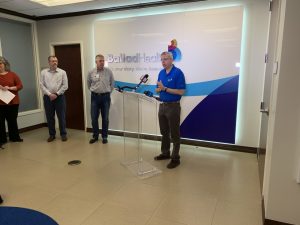 Ballad Health CEO Alan Levine provided an update to its current hospital bed capacity amid continued spread of the coronavirus during a teleconference Tuesday morning.
"Our ICU capacity is as good as its ever been, we've got currently 276 licensed ICU beds and 62 available, an increase from 50 just a few days ago," said Levine.
Capacity numbers have risen in part due to the suspension of elective surgeries, following an order issued last week by TN Governor Bill Lee. Levine also noted that they have purchased an additional 25 primary care critical ventilators to add to their supply which will arrive in the next eight to ten weeks.
As for testing, Ballad's nurse hotline call center has received roughly 7,500 calls, and they are anticipating receiving reagents soon to begin in house testing.
"Receiving the reagents will dramatically speed up one of the big limitations we have right now which is the availability of fast turnaround for lab-testing. When the reagents arrive, we'll have the capacity to do 50 tests per day."
According to Levine, both Johnson City Medical Center and Holston Valley Medical Center have the analyzers they need to conduct testing. They have also purchased an additional analyzer, and once that arrives, they will be able to conduct 400 tests per day.
Photo Courtesy: Supertalk File