Ballad Health partners with Mayo Clinic for experimental COVID-19 research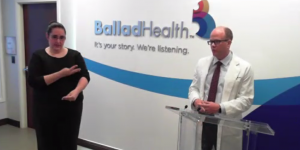 Ballad Health is partnering with the Mayo Clinic for a potentially game changing COVID-19 study for patients in the region.
During a Thursday press conference, CEO Alan Levine and other Ballad officials revealed they will be apart of a study that examines convalescent plasma from recovered COVID-19 patients.
Preliminary investigations say certain coronavirus patients have been able to fight off the virus thanks to antibodies in their blood, and available data also shows current coronavirus patients may be able to fight off the virus if they receive this vital plasma with the antibodies from the recovered patients. Pathologist Dr. Evan Kulbacki says plasma samples of any recovered COVID patient will be collected by the Marsh Regional Blood Center.
Researchers say one donation of plasma could help treat three patients. Kulbacki says they will start collecting plasma in Kingsport with intentions of also collecting in Johnson City and Bristol. Researchers will be looking for donors that have recovered and have also shown no signs of symptoms for 14-28 days. Ballad's System Chairman of Clinical Research Dr. Chris Metzger also mentioned in the press conference that patients who will be eligible for the convalescent plasma if they are hospitalized in serious condition and have respiratory issues, but also says they will try and treat as many patients as possible.
Ballad will be one of several systems across the country under this experimental research umbrella lead by the Mayo Clinic.
Photo Courtesy: Ballad Health via WebEx