WSCO: Guns, drugs, and cash seized, and two arrested as part of federal search warrant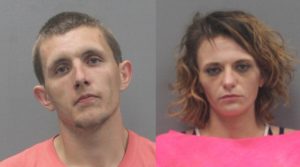 Two people in Bristol, VA are facing several charges following seizure of drugs, seventeen firearms, and cash as part of a federal search warrant executed Friday.
The Washington County, VA Sheriff's Office reports they along with other agencies including the DEA, Bristol Virginia Police Department, and the Smyth County Virginia Sheriff's Office searched a home on Clayman Valley Road, and found weapons, drugs including gravel, heroin, methamphetamine, marijuana, various forms of drug paraphernalia, as well as $23,000 in cash.
According to police, they arrested Gregory Leonard, 27, and Amber Carter, 29. Both were charged with Conspiracy to Possess a Schedule I or II narcotics with the Intent to Manufacture and Distribute, Possession of a Schedule I or II Narcotics with the Intent to Distribute, and Possession of Schedule I or II Narcotics while in Possession of a Firearm, while Carter received an additional charge of Child Abuse/Neglect.
Photo Courtesy: Washington County, VA Sheriff's Office