NASCAR returns to racing starting in Darlington on May 17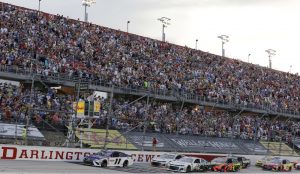 NASCAR has announced it will return to racing beginning May 17, and will hold 7 races in 10 days.
According to an announcement from the racing body on Thursday, they will resume their season starting with a series of three races in four days at Darlington May 17-May 20, including on track action from Cup Series and Xfinity Series teams.
NASCAR will then head to Charlotte to hold four races in four days from May 24-May 27. Officials say more updates will be provided on future events including races at Bristol, although early media reports indicated the Food City 500 would be scheduled for Wednesday, June 3.
No fans will be allowed to attend any of the events, and several health guidelines are being put in place to ensure the safety of teams, drivers, and track officials involved in the running of the events.
More details can be found here.
Photo Courtesy: In this Sept. 2, 2018, file photo, Denny Hamlin (11) leads the pack to start the NASCAR Cup Series auto race at Darlington Raceway in Darlington, S.C. NASCAR will get its season back on track starting May 17 at Darlington Raceway in South Carolina without spectators, and the premier Cup Series plans to race four times in 10 days at a pair of iconic tracks. The revised schedule released Thursday, April 30, 2020, goes only through May and has a pair of Wednesday races — fulfilling fans longtime plea for midweek events. (AP Photo/Terry Renna, File)