TN Gov. Bill Lee signs new executive orders, includes extension of state of emergency to June 30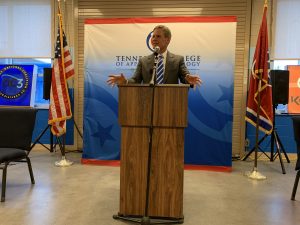 Tennessee Gov. Bill Lee has signed new executive orders, which extends the state of emergency declaration to June 30th in order to extend certain provisions facilitating the state's COVID-19 response.
Executive Order 36 consolidates provisions from six previous orders, while Executive Order 37 extends Order 36.
The following provisions will see extensions previously issued in those consolidated executive orders:
*Broad access to telehealth services;
*Increased opportunities for people to easily join the healthcare workforce;
*Easier access to unemployment benefits;
*Supply chain and price gouging protections;
*Extended deadlines and suspended inspection requirements to avoid unnecessary person-to-person contact;
*Increased opportunities to work remotely where appropriate; and
*Ability to remotely notarize and witness legal documents through electronic means.
The order also includes information about amended provisions as well as provisions that will no longer continue.
Full executive order available here.
Photo Courtesy: Supertalk File