Black Liberty University professor resigns, calls Falwell tweet 'image of racial terror'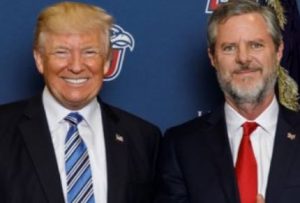 A black professor at Liberty University has submitted his resignation following social media messages posted by Liberty President Jerry Falwell, Jr., that showed a face mask with a printed picture of an alleged blackface medical school yearbook photo of Governor Ralph Northam.
Falwell tweeted out the controversial post on Wednesday railing against Northam's directive to wear face masks in Virginia buildings. The message also included Falwell calling Northam "Governor Blackface."
I was adamantly opposed to the mandate from @GovernorVA requiring citizens to wear face masks until I decided to design my own. If I am ordered to wear a mask, I will reluctantly comply, but only if this picture of Governor Blackface himself is on it!#VEXIT#EndLockdownNow pic.twitter.com/twu7r4rWhd

— Jerry Falwell (@JerryFalwellJr) May 27, 2020
Professor Christopher House said in a tweet that his moral compass and integrity would not allow him to have any further relationship with the Lynchburg school.
House's resignation letter says he was horrified that the leader of one of the largest Christian schools in the world would use an image that evokes a deep history of racial terror for the purpose of a political statement.
(PHOTO: J. Falwell, Jr. / Twitter)