Petition launched to have playground built and named in honor of Evelyn Boswell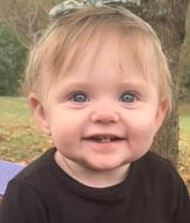 A petition has been created to have a playground built and named in the memory of 1-year old Sullivan County toddler Evelyn Boswell.
The petition started by Diane Greene Barnett on change.org, has already garnered over 6,000 signatures. In the petition, Barnett says the playground would include activities for children aged 3 months and older including an area for handicapped children to play. Boswell was the subject of a statewide Amber Alert earlier this year before investigators found her remains in Blountville in March.
If you are interested in signing the petition, click here.
Photo Courtesy: Supertalk File