UPDATE: Mount Carmel alderman resigns during meeting Thursday night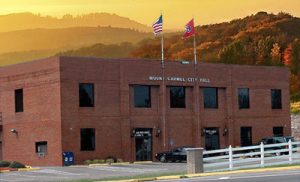 Mount Carmel Alderman Carl Wolfe has resigned from the board following accusations he and Mayor Chris Jones conspired to create a fake eviction notice to remove Jones's live-in girlfriend from a home owned by Wolfe.
City Manager Mike Housewright confirmed the news to Supertalk Friday morning, stating Wolfe resigned during a work session Thursday night. It also follows the resignation of Mayor Jones earlier yesterday.
A writ of ouster filed by District Attorney Dan Armstrong and Town Attorney John Pevy alleges the bogus eviction notice was endorsed by Jones with the town's official seal, and signed by Wolfe.
The board will vote whether to accept or reject the resignations during a meeting next Thursday at 6:30 p.m, and if accepted, Vice Mayor Jennifer Williams will be sworn in as new mayor.
Photo Courtesy: mountcarmeltn.gov