ETSU Health to hold "White Coats for Black Lives" march and demonstration tonight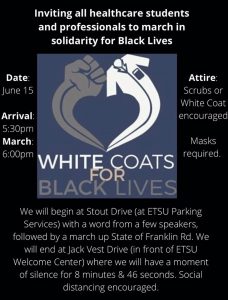 Students with ETSU Health have organized a march and demonstration against racial injustice scheduled for today.
The event called "White Coats for Black Lives" will hope to spark a conversation concerning racism as a public health concern while encouraging health care professionals and students to lead the way for change. ETSU's Dean of the Quillen College of Medicine Dr. Bill Block will address the crowd at 6 p.m prior to the start of the march. After the march concludes from the student lot 8 near Stout Drive and the ETSU parking services area to the ETSU Welcome Center, participants will take a knee for 8 minutes and 46 seconds, in memory of George Floyd, who died in Minneapolis, MN after a police officer kept his knee on Floyd's neck for that amount of time.
The event begins at 5:30 p.m and more information is available here.
Photo Courtesy: White Coats for Black Lives graphic via Facebook