HCSO: Two charged with abuse of an adult after police find elderly victim in home with feces, trash, and rotting food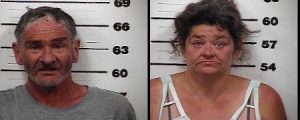 Two people in Rogersville have been charged with abuse of an adult after police find an 80-year-old woman the people were taking care of in a home full of feces, rotting food, trash, and mold.
A report from the Hawkins County Sheriff's Office says they were called for a welfare check on an 80-year-old woman on Saturday at a home in Rogersville. A deputy says prior to entering the home, he made contact with suspect Rebecca Armstrong. A deputy described the outside of the trailer as "dilapidated" with windows broken and busted out.
The report says when he walked into the trailer, he found the victim on a couch barefoot beside a bedpan, and said she could not walk very well or take care of herself.
While walking through the home, the deputy described seeing dog feces on the floor, two large holes in the floor, dishes piled up in the kitchen with rotting food on them, and black mold covering kitchen surfaces and the ceiling. He also reported that the refrigerator in the kitchen did not appear to work and contained rotting food inside.
While walking back through the residence, the deputy says he saw a bathroom next to the victim's room that was full of trash and human feces, and the victim's room that only had a mattress and blanket in the floor that had dog feces all over it.
In the report, the deputy said he talked with suspect Banner Skeen, who lived there and told police he along with Armstrong took care of the woman. The victim alleged to the deputy that the suspects dump her bed pan in the yard beside the house when it gets full. Police also located a broken pipe leading into the yard that had sewage coming out of it, and were unable to find a washer or dryer in the house.
Both Skeen and Armstrong were arrested, while the victim was transported to a safe and clean location.
Photo Courtesy: Hawkins County Jail