Bristol, TN BOE selects name for new middle school scheduled for Fall 2021 opening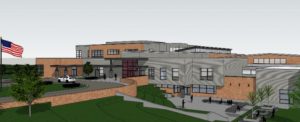 Board of Education members in Bristol have named a new middle school in Bristol, TN.
Published reports say during Monday night's Bristol, TN Board of Education meeting, leaders unanimously voted to name the middle school currently under construction, Bristol, TN Middle School. The current Vance Middle School will house students until next fall when the new middle school is expected to open.
The new $36 million middle school will also see the addition of sixth grade students as Vance currently holds classes for just seventh and eighth grade students. Upon completion, Vance will be torn down and the property will become a parking lot for the new school.
Photo Courtesy: Bristol, TN City Schools Artist Rendering