Several physicians call on Governor Lee to enforce COVID-19 precautions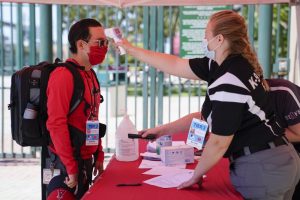 A group of critical care physicians on Monday called on Tennessee Gov. Bill Lee to do more to stop the spread of the new coronavirus.
In a news conference, Dr. Aaron Milstone suggested the governor needs to do three things to bring Tennessee's surging case numbers back down. First, he said, Lee needs to require people to wear masks in public.
"If people ignore speed limits, they're fined because they are endangering others," said Milstone, a pulmonary and critical care physician at Williamson Medical Center. "During this health crisis, not wearing a mask, not social distancing, is endangering others."
The doctors also want Lee to make the Tennessee Pledge enforceable. The Pledge outlines how businesses can protect workers and customers with social distancing, masks and other measures. And the doctors want Lee to give cities more authority to make rules that protect their citizens.
Tennessee saw coronavirus cases jump by 121% over the month of June as it reopened businesses. On Monday, the state recorded 724 new cases of coronavirus and seven new deaths, bringing the total number of COVID-19 deaths in the state to 653.
On Friday, Lee issued an order granting 89 counties the authority to issue local mask requirements if COVID-19 cases spike. A spokesperson for Lee's Unified Command Group, Dean Flener, cited that order when asked about the doctors' demands.
The Friday order "provides local governments with flexibility to address rising cases, and sets stronger expectations around the wearing of masks in Tennessee," Flener wrote in an email.
Milstone was joined on the Monday news videoconference by more than three dozen critical care doctors from across the state. Dr. Jigme Sethi, with Chattanooga's Erlanger Health System, said the virus is unlike anything he has ever seen.
"This is the first time in my 35 years as a physician that I've felt helpless in the ICU," he said. "The grief and sorrow of these needless deaths are devastating. They are dying alone, with no family present and no one holding their hands."
Dr. Jeff Wright, with the Baptist Medical Group in Memphis, said people are not taking the disease seriously enough while everyday nurses, doctors, and other hospital workers are risking their lives.
"There's a huge misconception that it doesn't affect young people," he said. "Today our most critically ill patient is an otherwise healthy 22-year-old woman who has been hospitalized for the last five weeks."
(PHOTO: Associated Press)