TWRA nabs 50K Largemouth Bass from Florida fishery to launch new breeds in Boone Reservoir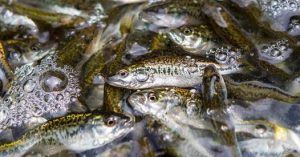 State officials are taking steps to bring the level and biodiversity of Boone Lake and Reservoir back to normal following a major dam repair and the lowering of pool levels.
Those moves include the release of 50,000 Largemouth Bass into those waters. These specimens were purchased by the Tennessee Wildlife Resources Agency from a specialty fish hatchery in Florida and produce a species of bass that the group says will jump-start the process of creating a crop of aggressive fish in the Sullivan County basin.
The TWRA noted the new natural and planted cover that was grown during the lake repair will enhance the growth of the fish for years to come.
(IMAGE: TWRA)