Richlands bomb maker receives 8 years in prison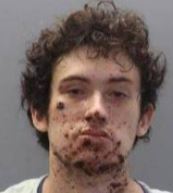 A Tazewell County, Virginia man who the TBI said fantasized about blowing up a mall and killing cheerleaders has been sentenced to 8 years in prison.
Federal prosecutors said Cole Carini, 24, of Richlands, lied about a lawn mowing accident last June when he came to an emergency room with missing fingers and severe shrapnel wounds.
A search of his room found evidence of a detonated bomb and other explosive-making materials.
Carini pleaded guilty in January to one count of possessing and manufacturing an unregistered explosive device.
(IMAGE: SuperTalk Archives)