Tennessee Supreme Court Justice Connie Clark dead at 71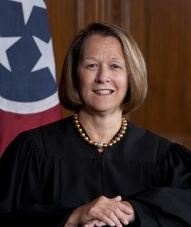 The Tennessee Supreme Court has announced the death of Justice Connie Clark from cancer at the age of 71.
A career lawyer from Middle Tennessee, Clark was appointed to the high court by Governor Phil Bredesen in 2005. She was also retained as a justice following a 2014 election effort to rid the court of three Democratic justices led by Lt. Gov. Ron Ramsey.
Current Chief Justice Roger Page called Clark a mentor and a valuable member of the Tennessee judicial family.
Clark vowed to complete her term which was set to expire in 2022 following her cancer diagnosis earlier this summer.
(PHOTO: TENNESSEE SUPREME COURT)