UPDATE: Ohio big rig driver high on meth sentenced to 22 years for fatal Wise County crash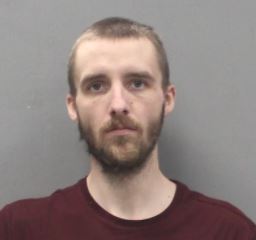 An Ohio man was sentenced to 22 years in prison by a Wise County Circuit Court judge for his role in a fatal car crash earlier this year.
Travis Lee Tolliver, 31, was convicted in August of aggravated vehicular manslaughter, felony maiming, and DUI.
Investigators said Tolliver was driving his 18-wheeler on the wrong side of Route 23 on February 24 and struck a car head-on resulting in the death of the passenger Perry Shea Owens and causing critical injuries to the driver.
Prosecutors said Tolliver's drug-tainted blood content was 17 times the legal limit at the time of the wreck.
"It's unbelievable that someone with this level of intoxication could barely function, let alone drive an enormous vehicle on the highway," said Chief Deputy Commonwealth's Attorney Steven Davis during the proceedings.
(MUGSHOT: BRISTOL BROADCASTING CO NEWS ARCHIVES)