Tennessee trash: University police continue to review footage from Saturday's debacle at Neyland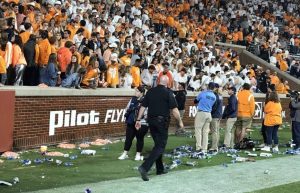 The current tally stands at 18 arrests but that may just be the beginning of University of Tennessee fans or students being jailed for Saturday's debacle at Neyland Stadium.
A preliminary review by the UT Police Department says 47 people were ejected after a barrage of trash rained down on Ole Miss coach Lane Kiffin, players, cheerleaders, and other staff.
Tennessee Chancellor Donde Plowman says security camera footage is still under review to find additional suspects who could face lifetime suspensions in some cases.
— Danny White (@AD_DannyWhite) October 17, 2021
(IMAGE: ASSOCIATED PRESS)