Ballad Health CEO testifies before House subcommittee on caring for patients and caregivers post-pandemic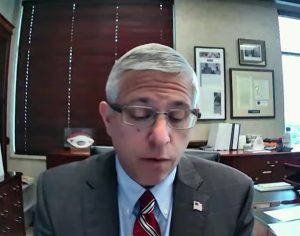 Several executives from the healthcare industry including Ballad Health CEO Alan Levine were chosen to testify before a House subcommittee studying better practices for support for patients and professionals who care for them.
Levine said the challenges for rural hospitals existed before COVID-19 including the split of governmental funding and rising costs. That is coupled with nurses leaving the industry.
"Linda Shepherd, a chief nursing officer at our Johnston Memorial Hospital in Abingdon, Virginia, and president of the Virginia Nurses Association summed it up on a recent VNA call with state-wide media: Our nurses are mentally depleted, exhausted and traumatized, experiencing pandemic-related PTSD with little or no time to seek mental health services. Suicide among nurses and other members of the medical community is also on the rise. We have had nurses over the past six months who have lost tremendous amounts of weight being unable to focus or get themselves in a place where they're emotionally settled, so they just stop eating. All of these things are impacting all of our nurses here in Virginia, as well as across the nation," Levine said during his remarks Tuesday via Zoom video.
A recent state study in Virginia says a fifth of the nursing homes lack staffing to meet federal guidelines resulting in violations and poor health scores.
(IMAGE: US House of Representatives / YouTube official / Public digital file)