Halloween happenings around the region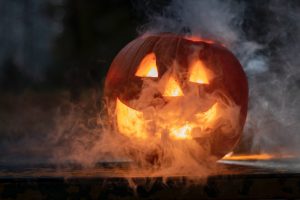 Numerous events are happening across the region this weekend in celebration of Halloween. Here are some ways families and friends can enjoy the spooky holiday in the Tri-cities:
JOHNSON CITY:
Pups and Trucks Trunk or Treat
10/28 : 5:30 PM – 6:30 PM ; Memorial Park Community Center
Dress in costume and let your child's imagination kick into gear while touching and exploring emergency and other vehicles. Kids will be able to climb aboard vehicles of all shapes and sizes while collecting Halloween candy. Bring your own bag. A doggie costume contest will be held at 6 p.m. Prizes for first, second and third place. No registration is required. Please stop by MPCC and fill out a registration form to show proof of your dog's vaccination prior to the event. For more information, call 423-434-5749.
Happy HalloWing!
10/30, 9:30 PM ; Wild Wing Cafe
$1,000 in Cash and Prizes; Party Starts at 9:30pm with Syren. Register for the Halloween Costume Contest starting at 10pm. Winners announced at Midnight. Lots of drink specials.
JONESBOROUGH:
Jack-o-lantern Drive-Thru
These pumpkins will be lit and on display along Main Street from Thursday, October 28 through Sunday, October 31, from 6 p.m. to 9 p.m. each evening. Be sure to stop by and check out the pumpkins!
Hocus-Pocus Drive-in
Enjoy other Halloween activities on Friday, October 29. Halloween-themed drive-in movie night. The Halloween classic, Disney's "Hocus Pocus", displayed behind the Washington County Courthouse. Parking starts at 6 p.m. and the movie starts at 8 p.m. The Christopher Taylor House will be transformed into the Sanderson Sisters' house from Hocus Pocus, and you may even find them running amuck close by!
Brews and Boos
Downtown Jonesborough on Saturday, October 30 from 8 to 10 PM.
Brews & Boos is set in Storytelling Park with a series of ghost stories featuring world renowned storytellers, Sheila Arnold, Tim Lowry and Connie Regan-Blake. The event is co-produced by the International Storytelling Center featuring three of the Festivals most popular tellers.
Downtown at Dusk (21+)
October 29 from 5:30 PM to 8:30 PM.
Trick-or-treating for adults with over 15 tastings and/or drink samples, all Halloween-themed, all throughout downtown Jonesborough. Most drink options will be alcoholic, so attendees must be 21 or over. Tickets are $20 per person. Visit www.jbohalloween.com
All Jonesborough events found on www.jbohalloween.com
KINGSPORT:
Trick or Treat on the Street
Saturday, October 30th from 12pm-2pm; Broad and Market Streets.
Crafts N' Treats with Kingsport Public Library. Go door to door to score sweet treats and spooky specials from participating downtown merchants. At 1pm, Dress up your furry friend in our first ever "Howl-O-Ween" Dog Costume Contest hosted by Pawsitive Ambitions. There will be 3 separate categories for judging, with a 1st place winner and runner up for each category. Judging will take place at Centennial Park.
The DAM Haunted Woods of Kingsport Animal Fundraiser
Oct. 30th ; 1-5 PM
Featuring no tricks, only treats– this is a daytime walkthrough experience at The DAM Haunted Woods in support of the Unicoi County Animal Shelter. Visiting candy stations scattered, your little trick-or-treater will be greeted by some of the haunts' scare-actors. Don't worry, though, no jump scares! Food will be served by Bone-In BBQ from 1:00 p.m. – 5:00 p.m.
ᴘᴀʀᴋɪɴɢ ᴄᴏꜱᴛ : $5 ᴘᴇʀ ᴄᴀʀ
ᴇᴠᴇɴᴛ ᴇɴᴛʀʏ : ᴄᴀᴛ ᴀɴᴅ/ᴏʀ ᴅᴏɢ ꜰᴏᴏᴅ
* 6 ᴄᴀɴ ᴍɪɴimum, ᴡᴇᴛ ꜰᴏᴏᴅ
* 15ʟʙ ᴍɪɴ, ᴅʀʏ ꜰᴏᴏᴅ
BRISTOL:
Halloween Extravaganza
Saturday ; 11 AM- 5 PM. ; 140 Oakview Ave. Bristol, VA
Event by Partners for Stronger Communities. "We will be having a Halloween Extravaganza on October 30th. There will be lots of fun, games, candy, and a costume contest."
Pumpkin Palooza and Downtown Trick or Treating
Parks and Recs teamed up with Believe in Bristol to sponsor Pumpkin Palooza and Downtown Trick or Treating at the farmers market at 801 Anderson St. On Oct. 30 starting at 9 a.m., the public can pick up free pumpkins to take home for decorating. From 10 a.m. until noon, downtown merchants will host a trick-or-treating event for children.
Bristol TN Police Dept.
The Bristol Tennessee Police Department will host Trunk or Treat on Oct. 30 at 5 p.m. at Downtown Center under Bristol's country music mural.
ABINGDON:
According to town officials, Halloween will be observed on Oct. 31, with trick-or-treating finished before 10 p.m. A social media post from officials says trick-or-treating is limited to children 12 years and younger.
Southwest Virginia 4-H Educational Center
Halloween celebration at the 4-H Center. Come dressed for a costume contest to this fun, family-friendly & kids-focused event that features games, pumpkin-carving, story-telling, and a walk through our haunted woods… if you dare! It's free and open to the public, so stop by for a trick or treat or stay for the full duration.
ELIZABETHTON:
Downtown Elizabethton Trick-or-Treating
10/29 ; 3 pm-4:30 pm
Celebrate Halloween by trick-or-treating in Downtown Elizabethton! Downtown merchants, civic clubs, and other organizations will hand out candy throughout downtown.
Parks & Recreation will host Boo on the Block on Armed Forces Drive, complete with music and of course candy.
Beetlejuice at the Bridge
10/29 ; 5:30 PM – 9 PM ; Elizabethton Covered Bridge
Spend Friday night in Covered Bridge Park surrounded by Beetlejuice themed characters and displays for some spooky fun! A limited number of Beetlejuice themed journals will be given away courtesy of the Elizabethton/Carter County Chamber of Commerce,
Enjoy food trucks and a live DJ with a character look-alike contest beginning at 6:30 PM. If you're not dressed for the movie- that's ok, we'll have a couple prizes for overall Halloween contest as well! Bring a blanket or lawn chair and enjoy a special showing of Beetlejuice at dark.
(Image: Unsplash)