ETSU hosting "Bucky's Big Top Carnival" Homecoming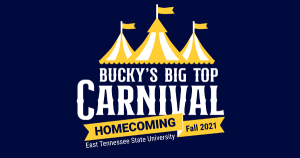 East Tennessee State University is happy to hold its homecoming celebration again in the Fall semester, after the pandemic forced the school to push back last year's event to Spring. Fall colors and flavors will encompass the ETSU campus next week at Bucky's Big Top Carnival.
Festivities begin on Monday at 2 PM with a blood drive hosted by Marsh Regional Blood Center on the Pride Walk. Then, the ETSU community can enjoy a carnival and pep rally in the Quad from 4:30 to 6. This homecoming celebration lasts all week, and a full schedule can be found on etsu.edu/homecoming. Homecoming week rounds out with next Saturday's football game against VMI; where a 90-foot-tall Ferris wheel will be available for families to ride.
(Image: ETSU)