Holiday events happening throughout the Tri-cities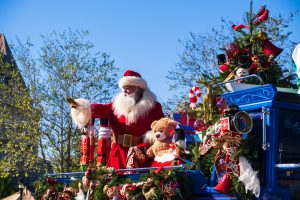 Holiday celebrations are happening across the Tri-cities. Families can celebrate all season with a variety of events:
ELIZABETHTON
Christmas Open House: Downtown Elizabethton
Nov. 14– SUNDAY AT 1 PM – 5 PM
Kick off your holiday season in Downtown Elizabethton with the 24th annual Christmas Open House! Sales, door prizes, and gift wrapping are just some of the wonderful features you will find at Open House. This is a wonderful time to get into the Christmas spirit, start your holiday shopping, AND support our small businesses. We look forward to kicking off the most wonderful time of the year with you and your family!
Kid's Candy Cane Quest: Elizabethton Covered Bridge
NOVEMBER 20, SATURDAY 6:30 PM – 8:30 PM
Immediately following Carter County Bank's Annual Tree Lighting Ceremony join Parks and Recreation at Covered Bridge Park for more festive fun! From 6:30-7:30 enjoy a Kid's Candy Cane Quest. Santa and his reindeer dropped their candy canes all over the park. Grab a provided bag and flashlight and come help us find them all to win prizes! Enjoy a free horse drawn carriage ride around the park for its breathtaking views and visit with Santa and Mrs. Claus from 6:30-8:30 PM
The Polar Express: Edwards Island Outdoor Area
NOV. 27, SATURDAY 4 PM—7:30 PM
Free kiddie train rides, roast marshmallows, enjoy hot cocoa & cookies until 5:30 PM, then tuck in with a chair and banket to watch a screening of the hit Christmas movie, The Polar Express, at dark. Sponsored by the Carter County Bank
Visit with Santa: Carter County Visitors Center
NOV 27TH, 12—2 PM AT 615 E. ELK AVE.
Children, Pets, and Families are invited to stop in and use your own device or camera for a photo. This event is free, donations of canned kitten and dog food, and cleaning supplies for the Animal Shelter are suggested.
Christmas in OZ: Covered Bridge Park
DECEMBER 4TH, SATURDAY 3—5 PM
Join the Elizabethton Cultural Alliance as you enter into the land of Oz. Encounter characters and celebrate the holidays like no other time before!
2021 Elizabethton Christmas Parade: Downtown Elizabethton
SATURDAY, DECEMBER 11, 6 PM – 8 PM
Main Street Elizabethton is excited to host the annual Elizabethton Christmas Parade in Downtown Elizabethton! The theme of this year's parade is "Christmas on the Big Screen". Main Street will honor The Friends of the Bonnie Kate Theater as the Grand Marshal.
KINGSPORT
DOWNTOWN KINGSPORT ASSOCIATION: "We have a lot in store for Downtown Kingsport as we approach the holiday season and we want to share the news with you now, as you're making your holiday plans. We are excited to announce Downtown for the Holidays! Starting Saturday, November 13 thru December 18, there will be something to do every weekend for the holidays in Downtown Kingsport."
42nd Annual Christmas Connection
NOV. 12,13; 10 AM–7 PM; KINGSPORT CIVIC AUDITORIUM
The civic auditorium will be filled with a warm and festive holiday glow to put customers in a holiday mood for shopping. The sights, sounds and smells of Christmas will surround shoppers as they shop from the region's best craftspeople, artisans, artists and creatives. A few of the items you will find include Country Crafts, Home Décor, Fine Woodcrafts, Leathercrafts, Handmade Soaps and Lotions, Candles, Jewelry, Christmas Ornaments, Stained Glass, Wheel Thrown Pottery, Fabric Crafts, Needlework, American Girl Doll Clothing, Pet Accessories and Clothing, Dichroic Glass, Handmade Greeting Cards and Paper Art, Snowmen, Santas, Candied Pecans, Baked Goods and much more!
For this merry 42nd celebration, the vendors will be keeping the event hopping, and music will be serenading the Christmas customers as they shop. On the Main Stage you will find the Christmas Connection Café, serving up country favorites. Outside the front entrance make sure to stop by the food trucks to satisfy your salty, savory or sweet taste buds. We will also welcome the Kingsport Ballet to the entry foyer with their homemade baked goods for sale.
Whether you have been enjoying the Christmas Connection for years or you are trying it out for the very first time, this artisan and craft fair has something for you! Kingsport's Annual Christmas Connection, a free admission event, is to be held November 12 and 13 at the Kingsport Civic Auditorium and is sponsored by the Kingsport Office of Cultural Arts. Staff will be working with the Civic Auditorium and following all the current protocols carefully. There will be socially distanced booths among other safety precautions. Kingsport Office of Cultural Arts is excited and blessed to be able to continue this tradition for its 42nd consecutive year serving the artists and the community. Thank you for supporting your local artisans!
Sweet Treats & Drinks Guide
NOV. 13, —DOWNTOWN KINGSPORT
Start off the holiday season with a trip down candy cane lane as you try out all the sweet treats & drinks from a variety of our downtown businesses: bakeries, sweet shops, coffee shops, distilleries, breweries, and bars. Make sure to grab your "Sweet Treats & Drinks Guide" at the Kingsport Chamber or virtually on our FB Page.
Small Business Saturday & Holiday Window Walk
NOV. 27 – DOWNTOWN KINGSPORT
As you head downtown to shop small & support local businesses for Small Business Saturday, this year we are adding a Holiday Window Walk to the shopping fun! From Nov 6th – Nov 26th downtown merchants will be decorating their window(s) for the holidays! Then, as you go door to door on Saturday, November 27 you can check out all the decorated windows for the Christmas season!
Jingle & Mingle Downtown
DEC. 4; NOON—8 PM
HO! HO! HO! It's time to Jingle & Mingle Downtown at our Holiday Event of the Year! Join us for a full day of Christmas fun in Downtown Kingsport on Saturday, December 4th starting at noon.
12pm-6pm Shop & Hop sponsored by Honda Kingsport
3pm-5pm Santa's Workshop in Glen Bruce Park: Pictures with Santa sponsored by Home Trust Bank, Letters to Santa sponsored by TVA Employees Credit Union, Very Merry Food Truck Rally, & more!
5pm Jingle Jams on Broad sponsored by Eastman Credit Union
6pm Jingle & Mingle Christmas Parade sponsored by Times News
7pm Christmas Tree Lighting sponsored by Integrity Capital Management
Kingsport Christmas Parade
DEC. 4th, 6 PM; DOWNTOWN KINGSPORT
The 12 Tastes (& More) of Christmas
DEC. 18TH, ALL DAY
Celebrate the last weekend of our holiday events & try the 12 Tastes (& More) of Christmas throughout Downtown Kingsport. Need to know where to order your holiday trays, pick up the best locally brewed beer and holiday spirits, or get decadent candies, cupcakes, cakes, and pies for your holiday party? Looking for the best local restaurants and entertainment venues to take your family and guests for a night out on the town? This guide will have you covered! Make sure to grab your guide at the Kingsport Chamber or virtually on our FB Page.
JOHNSON CITY
Candy Land Christmas Kickoff Tree Lighting
NOVEMBER 27TH, SATURDAY, 7 PM – FOUNDERS PARK
Candy Land Christmas is an event that will engulf ALL of Downtown Johnson City! Spreading from Founders Park all the way to King Commons, 150 Christmas trees decorated by businesses and non-profits will have downtown looking like a scene right out of Candy Land! Join us on November 27th for the Christmas kickoff held by The City of Johnson City at 7:00PM. Enjoy live Christmas carols a both King Commons and Founders Park during the Grand Lighting Event!
Downtown Candy Land Christmas
NOV. 27 – JAN 2; FOUNDERS PARK & KING COMMONS
This year you'll be able to enjoy Candy Land Christmas from November 27th through January 2nd, 2022. Walkthrough the Gumdrop Forest (Founders Park), follow Candy Cane Lane past the Gingerbread Pavilion all the way to Cupcake Commons (King Commons) for a Christmas adventure like no other!
Holiday Sip, Shop, and Stroll
DECEMBER 2, THURSDAY
What is Sip, Shop, & Stroll?! ONE VERY SPECIAL DAY of shopping, socializing, and sipping! Purchase a ticket to participate in this year's event and receive the following:
Downtown insulated wine tumbler with lid (can be picked up on December 1 from 2pm-6pm or December 2 from 11am to 6pm – location TBD)
Access to in-store discounts/deals at participating locations *deals coming soon!
1 raffle entry
Free wine/beverage and snacks at each location.
Visit all of your favorite downtown shops while enjoying food and beverages! Grab your ticket/cup and stop until you drop! Participating merchants will have extended holiday hours for THIS EVENT ONLY! PURCHASE TIX AT DOWNTOWNJC.COM
Johnson City Christmas Parade 2021
SATURDAY, DECEMBER 4, 10:30 AM
This year's theme is The Nutcracker. Parade will travel onto W. Walnut, crossing University Parkway, continues on West Walnut to Buffalo Street, crosses E. State of Franklin, down East Main Street, right on Colonial Way, left to E. State of Franklin and ending in the Old Burley Lot at the corner of E. State of Franklin and Legion Street.
Holiday Market
DECEMBER 11, 11 AM—5 PM; FOUNDERS PARK PAVILION
What can you expect to see at this year's Holiday Market?
– Awesome, unique, and totally amazing vendors
– A special appearance by SANTA and the GRINCH
–photo booths and activities
–Live music, baked goods, coffee, hot cocoa, apple cider
JONESBOROUGH
2021 StoryTown Radio's Soups & Songs Fundraiser
NOVEMBER 29, 6:00 PM – 8:00 PM
MCKINNEY CENTER AT BOOKER T. WASHINGTON SCHOOL, 103 FRANKLIN AVE, JONESBOROUGH, TN 37659, USA
This annual event to kick-off the holiday season provides guests with dinner, a show, and a one-of-a-kind, handmade ceramic bowl of their choice, all while helping a worthwhile cause, as this event also serves as a McKinney Center annual fundraiser.
The evening features the Jonesborough Story Town Radio Show cast and the Jonesborough Novelty Band in their annual Christmas Caroling Sing-Along. All who attend will receive a song book so they may sing along to every holiday tune, including classic standards such as White Christmas, Do You Hear What I Hear and so many more holiday favorites.
Tickets are $30, and will support The Jonesborough Story Town Radio Show and the McKinney Center, through which the Story Town program is run.
Guests may purchase tickets online at jonesboroughtn.org or by calling the Historic Jonesborough Visitors Center at (423) 753-1010.
Jonesborough's Lighting of the Tree
NOV. 27, 6 PM; Washington County, TN Courthouse
Jonesborough will be officially kicking off the Christmas season by lighting the large Frasier Fir in the heart of downtown in front of the Washington County Courthouse. Music and storytelling will lead up to the event.
Whoville Christmas
NOV.27, 11 AM–3 PM; MAIN STREET JONESBOROUGH
Christmas in Olde Jonesborough series will kick off with Whoville on Saturday, November 27 from 11 a.m.-3 p.m. complete with the Grinch and other characters!!! Dress as your favorite Whoville character and get a "grinch treat". Catch a movie inside the Lollipop Shop and enjoy a reading of the classic "How the Grinch Stole Christmas" at the Chester Inn Museum. Each Saturday in Jonesborough from Nov. 27 – Dec. 18 there will be a variety of events from 11 a.m. to 3 p.m. including caroling, visits with Santa, music, storytelling and extended holiday shopping hours in Tennessee's Oldest Town.
Santa will be on site in his sleigh beside the Washington County Courthouse for pictures and visits with children. Bring letters to Santa and drop them off in the mailbox from November 27 to December 19 and receive a reply from the jolly old man himself. Free gift wrapping will be offered inside the International Storytelling Center during events on any purchases made in downtown Jonesborough. The public is also encouraged to bring a new or gently used gift for St. Nick to deliver to less fortunate children in the area. Gifts can be dropped off with St. Nick at his sleigh.
Doggone Christmas
DEC. 4, 11 AM–3 PM; MAIN STREET JONESBOROUGH
Christmas in Olde Jonesborough continues on Saturday, December 4 with Doggone Christmas from 11 a.m. to 3 p.m. Attendees can bring their furry friends for pictures with Santa, a treat station and shop at the Christmas Market for pet friendly items! At 1 p.m. there will be contests including Ugliest Christmas Dog Sweater, Best Holiday Costume and Pet/Owner Lookalike. Donations will also be accepted for the Washington County Humane Society at the back of the Santa's sleigh.
2021 Jonesborough Christmas Parade
SATURDAY, DECEMBER 11, 6 PM
Join us for the best nighttime lighted parade in the region! Make festive memories with family and friends while you spend the evening in everyone's favorite historic downtown. This year's theme is "Christmas in the South" so you're sure to catch a glimpse of Dolly Parton on a float with twinkling lights or hear some lines sung from "Tender Tennessee Christmas". For more information, call 423.753.1010.
Jonesborough Rhythm Express Concert
DECEMBER 17, 7:00 PM – 9:00 PM
Jonesborough Visitors Center, 117 Boone St.
Join the Jonesborough Visitor's Center for a festival musical performance featuring the Jonesborough Rhythm Express, a 17- piece big band in the tradition of Glenn Miller. The concert will feature the full band performing nearly 20 traditional Christmas and holiday tunes, as well as vocalists. Tickets are $10 and can be purchased online with the link attached to the band's Facebook page event or at the door.
Christmas Church Stroll
DEC. 18, 11 AM–3 PM
The Christmas in Olde Jonesborough series wraps up on December 18 with the Christmas Church Tour from 11 a.m. to 3 p.m. Stroll through Jonesborough and visit participating churches in the downtown historic district. See their beautifully decorated sanctuaries and enjoy music, hand bells and historic information. Grab a guide at the International Storytelling Center to begin the tour. Hosts will also be available at each location to tell discuss the history and architecture. Each church is located within easy walking distance of downtown and attendees can shop for last-minute gifts.
BRISTOL
Downtown Christmas Open House
NOV. 22, MONDAY, 5:30—8:30 PM; Downtown Bristol
Ready or not, it's time to GET INTO THE HOLIDAY SPIRIT! Believe in Bristol will again sponsor the Annual Christmas Open House in Historic Downtown Bristol. Come kick off the holiday season with merriment and good cheer! Santa Claus will be giving out candy canes, Bristol Ballet will have dancers in costume, there will be carolers amongst the early Christmas shoppers!
Last, but certainly not least, a holiday favorite has returned — Horse & Carriage Rides! Come to the Downtown Center (Farmer's Market) to catch your ride through downtown, $5 per person.
Be sure to keep a look out for your favorite decorated window as the downtown merchants will be participating in the Merry Merchants Window Decorating Contest.
The Open House has traditionally been a customer appreciation night when merchants stay open late, have special discounts, and refreshments are served at participating locations. Join us and support your downtown shops; it's a great way to stimulate our local economy and find special one-of-a-kind gifts for everyone on your holiday list. Don't miss an evening planned for the entire family's enjoyment!
40th Annual Christmas Tree Lighting
MONDAY, NOVEMBER 29, 6:30 PM; The Bristol Hotel
Bristol's Annual Community Christmas Tree Lighting is set for Monday, November 29 at 6:30 p.m. at Cumberland Square in Historic Downtown Bristol. The event showcases the site's nearly 50-foot Norwegian Spruce and its younger counterpart, a 25-foot Douglas Fir decorated with thousands of warm-white Christmas lights – about 30,000 of them – for a dramatic and joyous display.
Bristol Christmas Parade
DECEMBER 2, 7:00 PM; DOWNTOWN BRISTOL TN/VA
Bristol Christmas Parade Dec. 2 7:00—8:30 PM. Free admission. Sponsored by Food City and Bristol Tennessee Essential Services.
GREENEVILLE
Breakfast with Santa to benefit Isaiah 1:17 House
NOV. 27, 8—11 AM; 130 W Depot Street, Greeneville
Price for the fundraiser breakfast and visit with Santa is $10. Santa will be giving each child a gift. Breakfast will be provided from 8am-11am. Customized Ornaments will be available for $8. Please share with your family and friends!
Greeneville Christmas Parade
DECEMBER 5TH, SUNDAY, 2:00 PM; DOWNTOWN GREENEVILLE
"Christmas Through the Decades" will be the theme for the 2021 Greeneville Christmas Parade on Sunday, December 5, at 2:00 PM, according to an announcement made by the Exchange Club of Greeneville, TN and the Greene County Partnership. Participants are encouraged to consider all the decades, not just the from this century, but also from the previous centuries for their theme.
The parade will be staged on Bohannon Avenue, turning left on North Main Street. It will then travel through the downtown area on South Main, proceeding to West Main, and dispersing onto Carson and West Main streets at the intersection in front of Crescent School.
ABINGDON
Holiday Hustle Town Wide Scavenger Hunt.
November 13th ,10 am.
276-492-6987 for more info.
A Christmas Story at Barter Theatre
November 18 @ 12:00 am – December 29 @ 12:00 am
Barter Theatre announced their winter holiday season, which includes A Christmas Story, The Twelve Dates of Christmas, and Jingle All the Way. A Christmas Story will be showing indoors at Gilliam stage from November 18th to December 29th, while the other two productions will be shown at the Moonlite Drive-In for the entirety of their respective
Holiday Market at The Martha Washington Hotel and Spa.
November 19th-21st
Abingdon welcomes you with all the warmth of downtown and all the charm of the historic Martha Washington Inn & Spa. Find incredible handmade gifts and stocking stuffers from some of the very best Virginia Highlands Festival vendors.
The Martha will sparkle in her Christmas best with plenty of white lights, greenery, and red bows, as she invites you to stroll through the gorgeously decorated halls, shop at The Little Shop, and dine in Sister's American Restaurant.
The adjacent lawn will glow with our vendor booths and spark childlike imagination with the largest private collection of Christmas inflatables in the Southeast.
*The Martha will serve wine from 4 pm–6 pm each Saturday
Santa has plans to come on Saturdays and there will be Christmas music at designated times. Mark your calendar for the Abingdon Christmas Parade:
Abingdon is absolutely lovely at Christmastime, and we hope you'll join us. More info will be posted as it becomes available.
HOLIDAY MERCHANT OPEN HOUSE.
November 21st- 1pm-5pm.
Holiday Market at The Martha Washington Hotel and Spa.
November 26th-28th
HOLIDAY LIGHTS DRIVING TOUR.
December 1st—January 3rd
All around Abingdon. Evening Hours appropriate to view lights.
Crooked Road Christmas Jam.
December 2nd, 6:30 pm-8:30 pm. SWVA Cultural Center.
The Crooked Road Christmas Jam, live at the Southwest Virginia Cultural Center & Marketplace! Come out and enjoy live music as we celebrate Christmas and the upcoming holiday season together.
Holiday Market a The Martha Washington Hotel and Spa.
December 3rd-5th
FIRST FRIDAY
December 3rd
ABINGDON CHRISTMAS PARADE.
December 4th – Downtown Abingdon
SANTA CLAUS IS COMING TO TOWN! The 54th Annual Abingdon Kiwanis CHRISTMAS PARADE is on!!! Saturday, December 4th at 6:00 pm.
Lights, Camera, Christmas!
December 5th- Coomes Recreation Center. Starts at 5:30pm
*The Abingdon Farmers Market will be open for November-Christmas on Saturdays from 10 am-12 pm.
(Image: unsplash)