Independence Day Celebrations happening across the Tri-Cities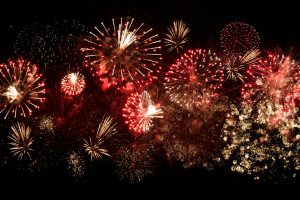 A compiled list of several events happening July 4th weekend in the region.
JONESBOROUGH DAYS
Main Street Jonesborough; July 2-3
Live music, dozens of vendors, food trucks, and free activities and events for the whole family! Admission to the festival is free and open to the public. The festival hours are 10 a.m. to 10 p.m. on Saturday, July 2 and 12 p.m. to 10 p.m. on Sunday, July 3. The festival begins Saturday, July 2 at 10 a.m. with a parade to kick off the festivities. Activities, music, contests and more will continue throughout the weekend. The fireworks display starts at 10 p.m. on Sunday, July 3 to wrap up the celebration. Full schedule at jonesborough.com/jbodays.
JOHNSON CITY
35TH ANNUAL PEPSI INDEPENDENCE DAY FIREWORKS CELEBRATION
July 3; Freedom Hall Civic Center
The Fourth of July festivities are back in Johnson City following a two-year hiatus during the height of the COVID-19 pandemic. The celebration will kick off at the Freedom Hall Civic Center on Sunday, July 3. The festivities for the public launch at 5 p.m. that evening, and families can enjoy food, craft booths, games and live music.
The full schedule of activities and performances is available below:
5 p.m. — Gates open with food and craft vendors and children's games
5:30-6 p.m. — WXBQ DJs
5-7 p.m. — On-site registration for prizes
Grand prize — Year supply of groceries ($10,000 value from Pepsi) presented by Food City
First prize — Year supply of gas ($2,000 value)
Second prize — Year supply of Pepsi ($1,000 value)
6-6:40 p.m. — Music by Restless Road
6:45-6:50 p.m. — Tribute to Gold Star Families and Disabled Veterans
7-7:45 p.m. — Music by Adam Doleac
8-8:10 p.m. — Color Guard with National Anthem and Pledge of Allegiance led by Miss Johnson City and Miss Food City
8:15-9:15 p.m. — Music by Tim Dugger
9:20-9:35 p.m. — Prize drawings
9:50 p.m. — Mayor Joe Wise and introduction to fireworks
9:55-10:15 p.m. —Fireworks presented by Pyro Shows of Lafollette, Tennessee
10:20-11 p.m. — Music by Tim Dugger
Attendees are subject to a bag search, and charcoal grills and other similar devices are prohibited, according to a release from city leaders. While alcohol is also prohibited on the grounds, there will be a Beer Garden available in the Auxilliary Gym from 5-9:55 p.m. Pets and personal fireworks are prohibited. There will also be portable restrooms available on-site.
KINGSPORT
RED, WHITE, AND BOOM CELEBRATION
Centennial Park; July 2, 5 PM
The City of Kingsport and Visit Kingsport are proud to announce Kingsport's Red, White and BOOM!
The Independence Day celebration will take place Saturday, July 2 in Downtown Kingsport starting at 5 p.m. Southern Rock icons 38 Special will headline the night with a free performance from the Cardinal Glass Industries stage with opener, The Ultimate Garth Brooks Tribute. Immediately following the concert will be the largest Independence Day fireworks display in Kingsport history.
68TH ANNUAL MACK RIDDLE AMERICAN LEGION INDEPENDENCE DAY PARADE
Kingsport; July 2, 10 AM
Leadership Kingsport is proud to produce this patriotic community event! The parade will begin at 10 am on July 2 at the Renaissance Center. Participants will proceed down Center Street to Fort Henry Drive, and the route will end at Memorial Park across from Dobyns-Bennett High School.
ELIZABETHTON
INDEPENDENCE DAY CELEBRATION
Downtown Elizabethton; July 2, 4 PM—dark
A full afternoon of fun and an evening of music and fireworks, to celebrate Independence Day! Food trucks will be available all day, and Main Street Elizabethton will be giving away popsicles while available! A full breakdown of the event is as follows:
3:45 PM- Patriotic Pedal begins at Edward's Island Parking Lot. Decorate your bike and take a 4.5 mile loop around downtown before ending at Covered Bridge Park to award the best decorated bikes! Registration is free.
4 P.M. – Patriotic Pup Pageant- Bring along your pup, dressed and ready for the occasion as we award top prizes for best patriotic pup! Registration is free and begins at 3:30 at Covered Bridge Park.
4:45 P.M. – Little Miss Firecracker Pageant- This beauty pageant is for all ages in six different age categories. Registration is on-going now. Following the Little Miss Firecracker Pageant, enjoy a special patriotic performance by Dancer's Dreams Performing Arts Academy, raising of the flag and patriotic ceremony.
7:30 Spank! The 80's takes the stage for a fun-filled concert on Covered Bridge Park stage. This high-energy band is one you won't want to miss!
9:30/Dark- Enjoy an incredible Fireworks Finale sponsored by Tour Carter County and the Elizabethton Chamber!
Bring along a blanket or chair to stay and enjoy the day with us!
BRISTOL
July 4; State Street/Cumberland Square Park.
Parade at 5pm down State Street. Music to follow at Cumberland Square Park. No Fireworks this year.
SOUTH HOLSTON LAKE
July 2-3 | Observation Knob Park
Food trucks, performances, corn hole tournament on the Ob Knob Stage
Fireworks at 9:45 p.m. on July 2

ABINGDON
July 4 | Fireworks
Latture Field, 425 West Main Street
BLOUNTVILLE
July 4 | 2 p.m. parade
Blountville Ruritan Annual Independence Day Parade begins at Oak Street/Keystone Drive.
ROGERSVILLE
July 3; 5 PM, Rogersville City Park
UNICOI
July 4 | 5 p.m. to 10 p.m. ; Unicoi Elementary School
Food, live music; Fireworks at night.
(Image: unsplash)