First case of monkeypox confirmed by state health officials in Southwest Virginia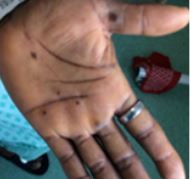 Five additional monkeypox cases have been confirmed by the Department of Health including one case in Southwest Virginia.
The agency said in a report the patients are all male, are in isolation, and were exposed to other people being treated for the viral infection. To date, VDH says most, but not all, cases have occurred in persons who identify as gay or bisexual.
Person-to-person spread of the rash illness occurs with close contact or direct contact with body fluids or contaminated clothing or linens.
(IMAGE: Centers for Disease Control and Prevention / NHS England High Consequence Infectious Diseases Network)