Marion's Lincoln Theatre hosting free kid's summer camp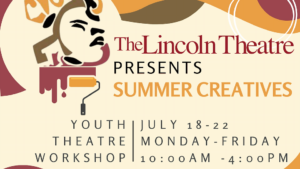 The Lincoln Theatre in Marion, Virginia is hosting a free summer camp for school-age kids in July. The week-long camp is called "Summer Creatives". Participants will have the opportunity to take part in all aspects that go into a theatre production– from story-writing to costume design, and of course, acting.
Registration is required, however the camp is free to attend for those in grades 1-12. More information can be found on TheLincoln.org. To register, contact the Lincoln Theatre by email or phone. The Summer Creatives camp happens July 18-22.
Phone: 297-783-6092
director@thelincoln.org
(Image: The Lincoln Theatre)