Local animal shelter provides tips on keeping pets safe during Independence Day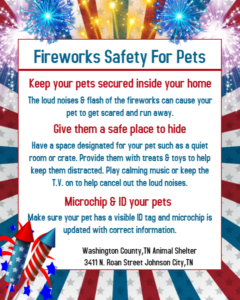 The Johnson City Animal Shelter took to social media to provide the public with tips to keep your pets safe and comfortable this Fourth of July weekend. Officials say more pets are lost in the days surrounding Independence Day than any other in the year.
Loud noises and the flash from fireworks can startle pets and possibly cause them to run away. Giving your animals a safe place to hide, with toys and treats as a distraction can help. Putting on music or a TV can also help drown out loud noises. Officials also stress the importance of microchips and collars with tags, if a pet does happen to get lost.
(Image: WCAS)