Town of Abingdon plans for new bicycle pump track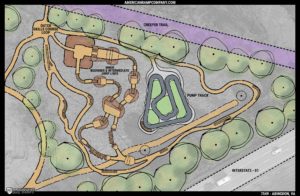 The Town of Abingdon is planning to build a new bike park near The Meadows Sports Complex, and officials are seeking the public's input. According to the town, the proposed park would be a pump track, for bike riders to practice special skills.
The artist's rendering includes features for various age groups and skill levels. Town officials are hosting both an online survey and a public input meeting scheduled for August 8th, where community members can give their thoughts. More info here.
(Image: Town of Abingdon)